Aristo was founded in 1983 by Frank Der Kinderen in Eindhoven. In those days Aristo started off with 14 conference rooms in the city centre of Eindhoven. Nowadays it expands over 3 cities with 4 fully equipped venues in Amsterdam, Eindhoven, Utrecht CS and Utrecht Lunetten.
There is one thing you can say about us. Aristo meeting center takes care of all of your needs and unburdens you. This goes beyond just offering a room and catering. Aristo has made it its mission to make every guest feel at home and take care off its every need. Only then you can focus on your meeting and leave feeling just a little bit wiser. That is why we at Aristo say: 'Have a wise day!'
+ Find out more
As a family owned business we are very proud to be innovative, caring/involved, flexible and dependable at the same time. That is what we stand for and what the entire team strives for. Unburdening, sustainability and quality are our main pillars in both our service and customer relations. This starting point is becoming of close family ties and forms our base on which to expand on.
We feel that even if you are online anytime, anywhere and connect to people via video link, there are so many reasons why it is important to be able to meet face to face. The way we communicate and work together may alter, but our need to meet and interact in person will never change. It is up to us to continue to come up with ways to make this happen for our guests.
In the past our business model was based on renting out rooms. Now and in the future we would like the be a partner for our customers who meet, work and learn.
Have a wise day!
René Steenbakkers
Managing director Aristo meeting center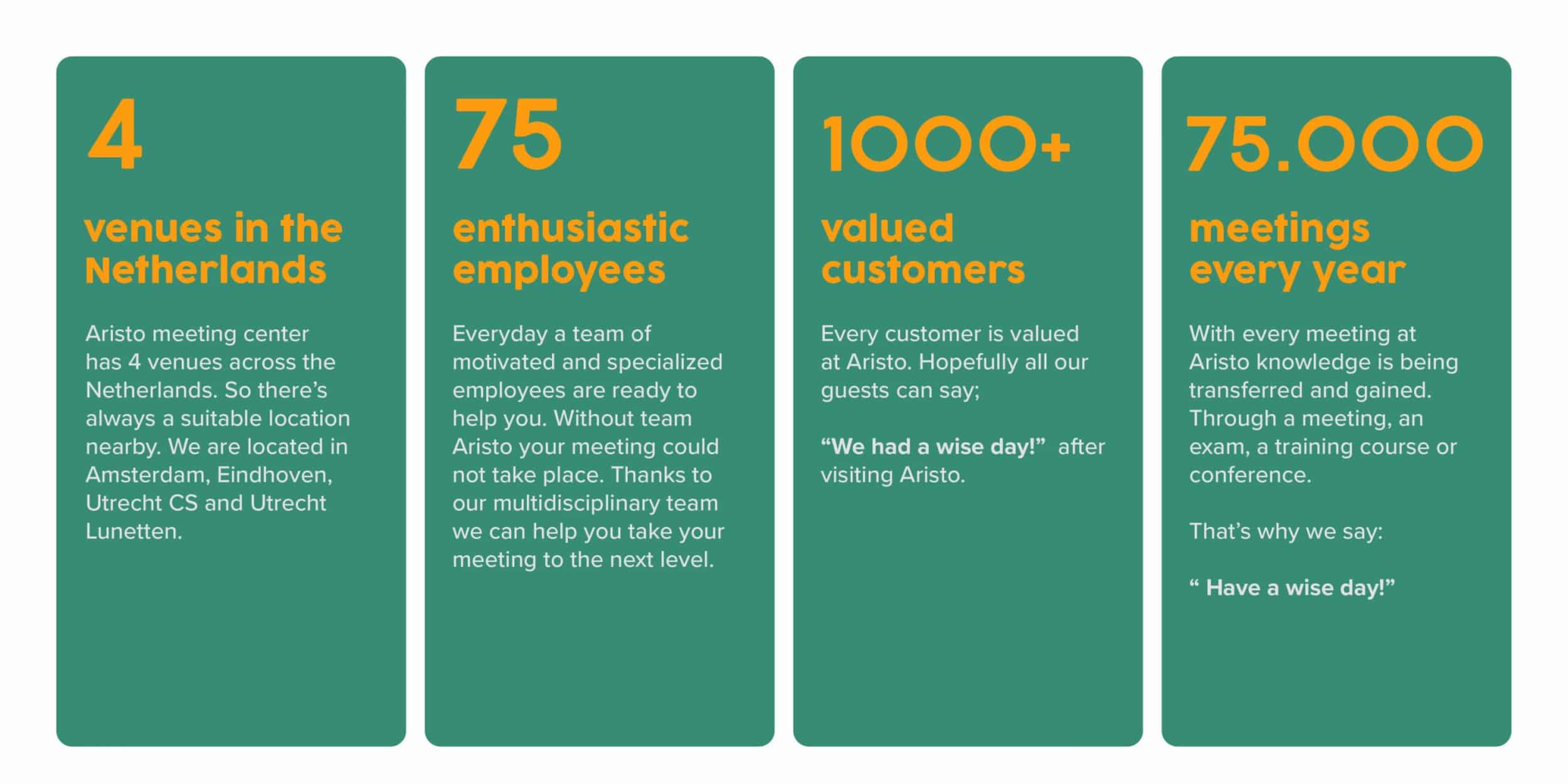 10 reasons for choosing Aristo meeting center
Over 36 years exerience, we understand what you need for your specific meeting
Four mayor meeting centers in Amsterdam, Eindhoven, Utrecht CS and Utrecht Lunetten
Over 120 rooms with very good acoustics
Focus on business events
Very suitable for training courses, business meetings, workshops, conferences, brainstorm sessions, scrum meetings, exams and coworking with various package deals
Easy to reach, onsite parking and close to an NS train station
Green Key Goud certificate due to our sustainabilty and social awareness policy
Healthy and fresh catering options considerate of dietary needs
Modern audiovisual equipment
Personal contact with a hint of "Brabantse" hospitality even in Amsterdam, Utrecht CS and Utrecht Lunetten.
In short: Aristo takes care of everything so you and your guests can fully focus on the meeting. We want everybody to leave just a little bit wiser. And so we say: 'Have a wise day!'